Premium Piano Lessons
Athens Piano School offers excellent and affordable piano instruction to all people in the Athens area community.
Discounts for UGA students
There is a $5 discount per lesson for UGA and other college students.
Discounts for multiple family members enrolled
If you are a family, there is a discount for you as follows:
One family member - full price per lesson
Two family members - both receive a $5 discount per lesson
Three or more from the same family - all receive a $10 discount per lesson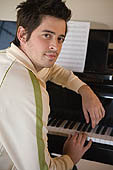 $25 for a 30 minute lesson
(available for kindergarten and first grade only)

$40 for a 60 minute lesson
(grades 2-12, high school, college & adult)
For busy schedules, we are happy to travel to your house and teach for an additional fee.
All students should bring payment at the beginning of each month for all lessons scheduled during that month. There is a $75 discount offered to all students interested in paying by the semester, excluding summer.
There is a one time non-refundable registration fee of $40 that applies to all students upon entry to Athens Piano School. This fee includes all of your music, booklets and other learning materials for the first three months. Thereafter, some of your music is provided free of charge, and your cost is usually less than $10 every three months.
Call or email now to reserve your lesson times. Discounts for families and UGA students. Start anytime year-round!